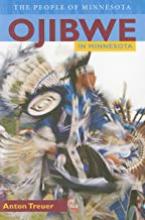 With insight and candor, noted Ojibwe scholar Anton Treuer traces thousands of years of the complicated history of the Ojibwe people—their economy, culture, and clan system and how these have changed throughout time, perhaps most dramatically with the arrival of Europeans into Minnesota territory.
Ojibwe in Minnesota covers the fur trade, the Iroquois Wars, and Ojibwe-Dakota relations; the treaty process and creation of reservations; and the systematic push for assimilation as seen in missionary activity, government policy, and boarding schools.
Treuer also does not shy away from today's controversial topics, covering them frankly and with sensitivity—issues of sovereignty as they influence the running of casinos and land management; the need for reform in modern tribal government; poverty, unemployment, and drug abuse; and constitutional and educational reform. He also tackles the complicated issue of identity and details recent efforts and successes in cultural preservation and language revitalization.
A personal account from the state's first female Indian lawyer, Margaret Treuer, tells her firsthand experience of much change in the community and looks ahead with renewed cultural strength and hope for the first people of Minnesota.
Publisher:
Minnesota Historical Society